Yachts Private Group Dining Events
Private Group Yacht Charters Yacht Connections
Frequently Asked Questions
Q: There are many boats on the bay, what's different about yours?
A: Our boats are better classified as Yachts and were designed and built for the ocean. They cruise beautifully on the Bay. The 100' California Spirit was designed and built for events with specifications for hosting up to 130 guests while providing intimate surroundings for groups of 15.
The Yacht offers three lovely interior salons, five restrooms and three exterior decks with plush upholstered seating.
The 80' Yacht Lady offers utmost privacy in a dramatic setting conducive to camaraderie and conversation for up to 12 guests.
Q: What kinds of boat cruises do you specialize in?
A: We host Yacht events for corporations and entrepreneurs who understand the value of mixing business and pleasure in a private and unique environment; as well as family Bay tour excursions, weddings, birthdays, anniversaries and social celebrations.  With over 35 years of owning premier Yachts on the Bay, we have hosted many events. We plan each detail so it is worry free for you, allowing you to relax and enjoy your event. Read out reviews on Yelp.
Q: What is the attire for boating events?
A: Shorts, Jeans, Black Tie, Cocktail and elegant Gowns, we see it all, and everything works with an emphasis on comfort. Your guests may enjoy a "nautical chic" theme, guests get excited about arriving in blazers or sweaters with a red, white and blue theme. We have ample interior space, but always suggest layers so you can enjoy the ever changing views on our comfortable exterior decks. More on Yachting Etiquette.
Q: I worry about my guests getting motion sickness on a boat, is this a concern?
A: No, it is not a concern. Our Yachts have been custom built with extensive amenities and ocean-going capabilities. Your guests will appreciate the comfortable ride that is much smoother than lighter converted houseboats or crew boats. The Monte Fino built Yacht Lady is equipped with a microprocessor controlled roll stabilization (MCRS) system not available in any other vessel on San Francisco Bay and the California Spirit's hull was built by Westport Shipyard known for building mega Yachts for offshore cruising.
Q: What if it rains when we are out on a boat?
A: Charter us for sure, as we have adequate space inside and outside. We are proud to offer the best of both worlds. Guests are delighted to feel the air and enjoy the views without looking through plastic or glass windows on a boat that is totally enclosed.  Our Yachts are extremely cozy, warm and lovely. We have learned from years of cruising on the Bay that the rain is not continuous. When viewed from the Bay, the city glistens like it has just been given a bath.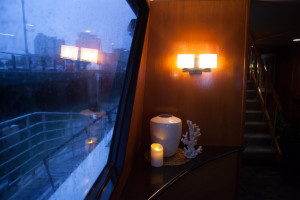 Q: Can my guests go into the boat pilot house with the captain?
A: Yes, they can. The Captain is pleased to allow guests of any age into the Pilot House. He may even let you steer! Ask him questions about the Bay route and remember to bring your camera for memorable shots.
Q: Where do I park?
A: There are ample parking lots nearby and meters on the street. Public parking is not available on Pier-40 beyond 1-hr visitor parking. Please request more info from our staff.
Q: Why would I would be interested in chartering with you versus owning a boat?
A: If you love the waters of the Bay and want to spend time on them without the expense and responsibility of boat ownership-this is an ideal solution. We will keep requests on file so you can come aboard without the hassle of detailing all your wishes. Our Yacht Lady is perfect for extended Charters for up to 12-guests.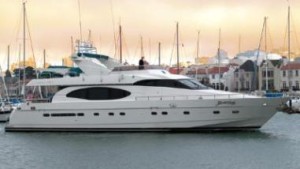 Q: I know I want to book a boat charter with you; who do I call?
A: During normal office hours Monday-Friday, call 650-737-8093 and our team can assist you immediately.  If you get our voicemail it will automatically be copied via email to our staff on call. If you charter request is after-hours within 24-hrs. call 415-407-7274. You can also send us an email at info@ycicharters.com designating your charter date and cruise time.