Yacht Dining Menu
Yacht Dining Menu:
Yacht Connections Private Group Dining Events
The most luxurious owner-operated Yachts available for private group dining events on the San Francisco Bay
Appetizers
 Chilled – Steward Passed
** Gluten Free * Vegetarian
Vegetarian – or – Shrimp Spring Rolls
rice noodle| carrot |cilantro| mint |sweet chili sauce **
Spiced Gazpacho Shots
tomato | cucumber | jalapeño | lemon **, *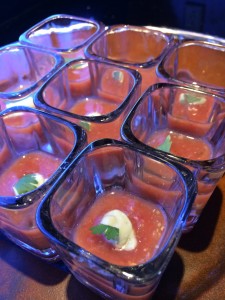 Wild Mushroom Sushi
rice | mushroom | wasabi vinaigrette **, *
Mini Ahi Tacos
housemade wonton taco | fresh ahi |wasabi mayo asian dressing | slaw *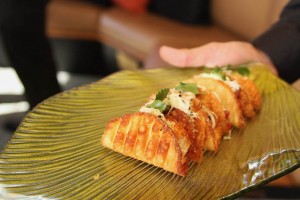 Ahi Poke
ahi tuna | sesame-soy | avocado | spicy seasonings **
Crab Cocktail
seasonal crab |remoulade | dill | lemon **
Jumbo Prawns
|cocktail sauce
Hot – Steward Passed
Crab Cakes
seasonal crab | bread crumbs | cilantro | lemon jalapeno aioli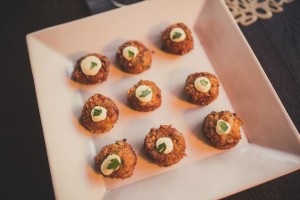 Artichoke Arancini
arborio rice | artichoke | onion | mushroom
| aioli | basil *, ** (upon request)
Sea Scallops
sea scallops | water chestnut **
Bacon Wrapped Scallops
sea scallops | bacon | water chestnut **
Firecracker Wontons
spicy pork | sambal chilies | green onion | oyster sauce
Marinated Grilled Prawns
| skewered **
Mini-Tamales Southwest Veggie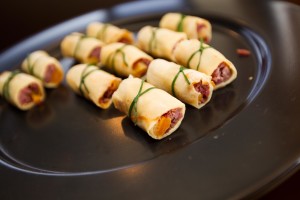 Flatbread
Caprese
mozzarella | tomato I basil *
Roasted Mission Fig
pt. reyes blue cheese | balsamic reduction *
Brussels & Truffle
brussels sprouts | bacon | caramelized onion
Sliders
Vietnamese Bahn Mi Sliders (choose one) tofu | vegetable – or – pork
Sloppy Joes Sliders
lamb | sourdough roll
Roasted Mesquite Tri Tip Sliders
|sourdough roll
Poached Lobster Sliders
|sourdough roll
On Display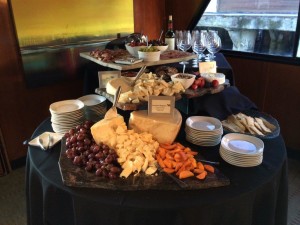 (ask about a wine pairing & cheese upgrade…)
Mixed Nuts Bar Snacks
Mild Salsa
|organic tortilla chips
Asian Noodles – or – Chinese Chicken Salad
|chinese to-go boxes
Fresh Chicken Pot Stickers cabbage | ginger | garlic
& Fresh Mushroom Dumplings (both)
Mediterranean Platter
hummus | tzatziki | artichokes | fruit | feta | pita | marinated olives | sundried tomato *
Artisanal Cheeses
three cheeses |seasonal fruit | breads & crackers *
Upgrade Truffle | Pâté


Salumeria & Cheeses
two cheeses | prosciutto | salami | cured italian meats |artichoke hearts | marinated olives | pepperoncini | sundried tomatoes | stone ground mustard | breads | crackers
Upgrade – Truffle| Pâté

Seafood Display on Ice
rock crab claws | prawns | fresh crab cocktail
remoulade | cocktail sauce |dill | lemons **
Rock Crab Claws
cracked | lemon | cocktail sauce **
Oysters
kumamotos | pacific north west **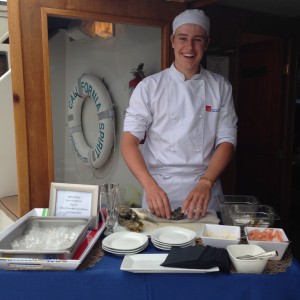 (ask about upgrading to an Oyster Bar…)

Signature Buffets with unique displays…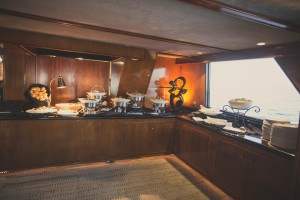 We always recommend our Signature Buffets so that guests can enjoy the views of San Francisco – with a seated meal it may limit your guest ability to move about and take photos.  Even at night they will have the opportunity to see Alcatraz a glow, going under the Golden Gate bridge and the SF Skyline lit-up.  We don't skimp on quality for the buffet, and actually add décor and action stations at no extra charge.
Seated Service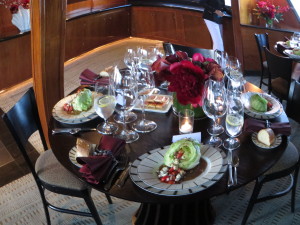 (ask about additional fee's for seated-service. Up to 64-guests for casual seating with 8 guest a table – or 48-guests with 6 guests a table for formal dining with wine-pairing. No linens required with our custom Art Deco style tables)
Salad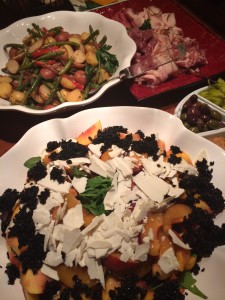 (Seasonal) Arugula
| stone fruit | black olive caramel | toasted almond | ricotta salata | balsamic vinaigrette
(Seasonal) Heirloom Tomato Salad
| cubed sourdough | cucumber | basil | red onion Classic Wedge | iceberg salad |tomato | pancetta | balsamic vinaigrette | crumbled bleu cheese
Sonoma Greens
| seasonal vegetables | balsamic vinaigrette Traditional Caesar | garlic croutons | shaved parmesan
Beet Salad
| citrus | chevre | walnuts
Watermelon Salad
| feta | mint | padron peppers
Little Gem Salad
| parmesan crisps | white anchovy | radish | garlic lemon vinaigrette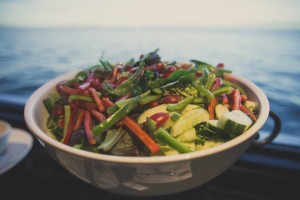 Soup & Salad
Soup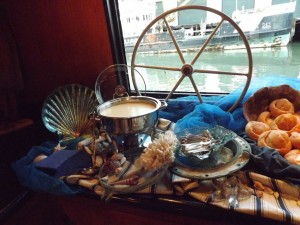 (ask about upgrading to full décor)
San Francisco Clam Chowder
| sourdough bread bowl side
Spicy Black Bean Soup
| jalapeno | cilantro |white onion | sour cream side*
Lobster Bisque
|tomato | onion | cream
Entrees
Fish Entree
Steamed Maine Split Lobster Tails
| artisan butter
(Seasonal) Dungeness Cracked Crab
Wild Salmon
| meyer lemon salsa verde Farm-Raised Salmon | meyer lemon salsa verde
Halibut with Mushroom Ragout
Ahi Tuna Steak | ginger sesame glaze
Meat & Poultry
Porterhouse Steak
| crumbled bleu cheese demi-glace
Harris Ranch Center Cut Filet Mignon
(Filet Duo) Add Grilled Shrimp – or – Steamed Maine Split Lobster Tails
| artisan butter
Mary's Chicken Breast
| crimini mushroom | white wine reduction | capers
Herb-Crusted Apple Cider Brined Pork
| thyme | sage
Cabernet-Braised Tender Beef Short Ribs
Roasted Colorado Grass Fed Rack of Lamb
| garlic | thyme
*Vegetarian
Pecorino Basil Risotto with Asparagus
Mushroom Ravioli
| shaved parmesan | olive oil
Portabella with White Lasagna al Forno
Ratatouille on Grilled Polenta **
Orrechiette
| carmelized onions | english peas | creamy parmesan
Sides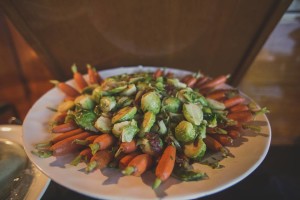 Chef's Choice Seasonal Vegetable
| garlic | butter
Glazed Carrots
| cumin | butter | orange zest
Seared Brussels Sprouts
| garlic butter (or oil) | bacon (may be served on the side)
Haricot Verts
| butter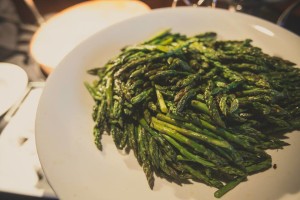 Grilled Asparagus
| chile flakes
Roasted Potatoes
| garlic | herb
Mashed Potatoes
| cream | chives
Basmati Rice & Snow Peas
| celery | caramelized red onion
Prix Fixe Buffet Menus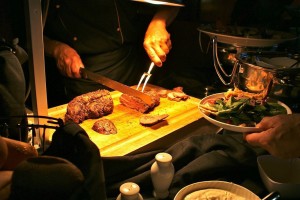 Chef's Fresh Choice
One Entrée or Two Entrées
Artisanal Cheeses
three cheeses |seasonal fruit | breads & crackers
Sourdough & Classic Wedge Salad (build your own)
tomato | prosciutto | bleu cheese
Roasted Mesquite Tri Tip (hand-carved)
horseradish crème | chipotle sauce
– or –
Chicken Breast & Crimini Mushroom
white wine reduction | capers
– or –
Mushroom Ravioli
|shaved parmesan | olive oil
Basmati Rice & Snow Peas
| celery | caramelized red onion – or –
Grilled Asparagus | chile flakes
Mini Assorted Cupcakes
White & Dark Chocolate Covered Strawberries
Chef's Seasonal Choice
Crab Cakes & Artichoke Arancini (passed)
Sonoma Greens
seasonal vegetables | balsamic vinaigrette
Roasted Mesquite Tri Tip (hand-carved)
horseradish crème | chipotle sauce
Mushroom Ravioli
|shaved parmesan | olive oil
Seared Brussels Sprouts garlic butter (or oil)
| bacon (may be served on the side)
Mini Assorted Cupcakes
White & Dark Chocolate Covered Strawberries
Chef's Premier Choice
(choose two) Mini Ahi Tacos | Crab Cakes | – or –
Artichoke Arancini
Chef's Fresh Seasonal Salad (paired with entrée)
(choose two)
Roasted Colorado Grass Fed Rack of Lamb
garlic | thyme
– or –
Harris Ranch Center Cut Tenderloin of Beef
– or –
Wild Salmon
| meyer lemon salsa verde
Grilled Asparagus & Chive Mashed Potatoes
with Tiramisu  – or – Mini Dessert Trio Buffet
San Francisco Favorites
Mild Salsa
|organic tortilla chips
Sourdough & Classic Wedge Salad (build your own)
tomato | prosciutto | bleu cheese
San Francisco Clam Chowder
|sourdough bread bowl side
Mini Tamales (choose one) chicken | beef – or – southwest veggie
– or –
Tacos | chicken – or – pork | corn tortillas
Beans & Peruvian Rice
Ghirardelli Chocolate Brownies
Yachting Stations
for a meal replacement – add appetizer and/or desserts. No substitutions for these discounted Stations. Build your own menus
Nob Hill Carvery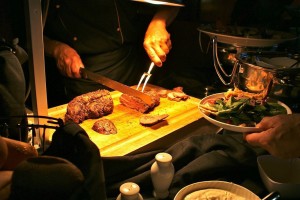 (no additional charge for Chef Action Carvery Station…)
Traditional Caesar garlic croutons
| shaved parmesan
Pecorino Basil Risotto & Spring Asparagus
Roasted Mesquite Tri Tip (hand-carved)
| horseradish crème | chipotle sauce
– or –
Philly Cheese Steak
grilled peppers | onions Roasted Potatoes | garlic | herb
Asian Fusion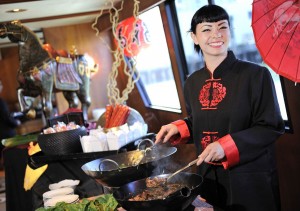 (ask about upgrading to full décor)
Fresh Chicken Pot Stickers
cabbage | ginger |garlic & Fresh Mushroom Dumplings
Spring Rolls | vegetarian – or – shrimp
rice noodle | carrot | cilantro | mint | sweet chili sauce
Vietnamese Bahn Mi (choose one) tofu | vegetable – or – pork
Asian Noodles – or – Chinese Chicken Salad
| cascade of fortune cookies | chinese to-go boxes
The Mission
Mild Salsa
| organic tortilla chips
Spicy Black Bean Soup
| sour cream
Vegetarian Peruvian Rice
Mini Tamales (choose two) chicken | beef – or – southwest veggie
Tacos | chicken – or – pork | corn tortillas
Italian Favorites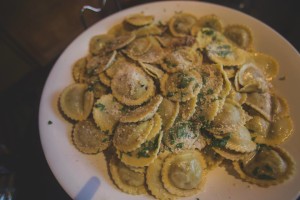 Caprese Flat-Bread
Traditional Caesar garlic croutons
| shaved parmesan
Marinated Chicken Breast
Mushroom Ravioli
|olive oil | parmesan
Indian Flare
Chicken Tikka
Spicy Lentil Daal
Naan (choose one)
pesto | garlic – or – chili thyme
Saffron Basmati Rice
Fisherman's Wharf
San Francisco Clam Chowder
| san francisco sourdough bread bowl side
– or – Lobster Bisque tomato | onion | cream
Poached Lobster Salad
| sourdough rolls
Crab Cakes (passed)
crab | cilantro | lemon jalapeno aioli
Jumbo Prawns
| cocktail sauce
Crab Cocktail
| remoulade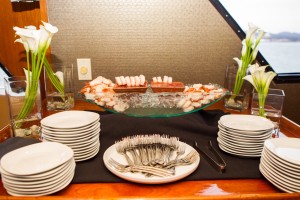 Dessert
Dessert Buffet
mini dessert trio | white & dark chocolate covered strawberries
Mini Dessert Trio
decadent chocolate torte | bavarian crème chocolate éclair | fruit tartlet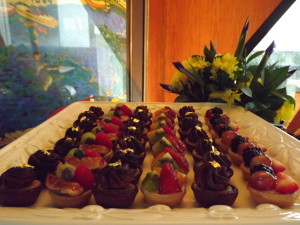 White & Dark Chocolate Covered Strawberries
Plain Strawberries
Ghirardelli Chocolate Brownies
Freshly Baked Cookies
Mini Cupcakes
assorted cupcake flavors with butter cream finish
Cupcakes
assorted cupcake flavors with butter cream finish
Macarons
classic french macarons | assorted flavors with almond meringue and a cream-filled center
Tiramisu
ladyfinger cookies soaked in coffee rum syrup | layered with mascarpone cream | dark chocolate shavings | dusted with cocoa powder
Seated Desserts
Fresh Fruit Tart
Seasonal Cobbler & Cream
Molten Chocolate Cake